I Made An AI-Written Comic Book In 2 Hours
A comic book written entirely by ChatGPT and drawn with Midjourney v4.
I asked ChatGPT to write me a comic book. This is what it created: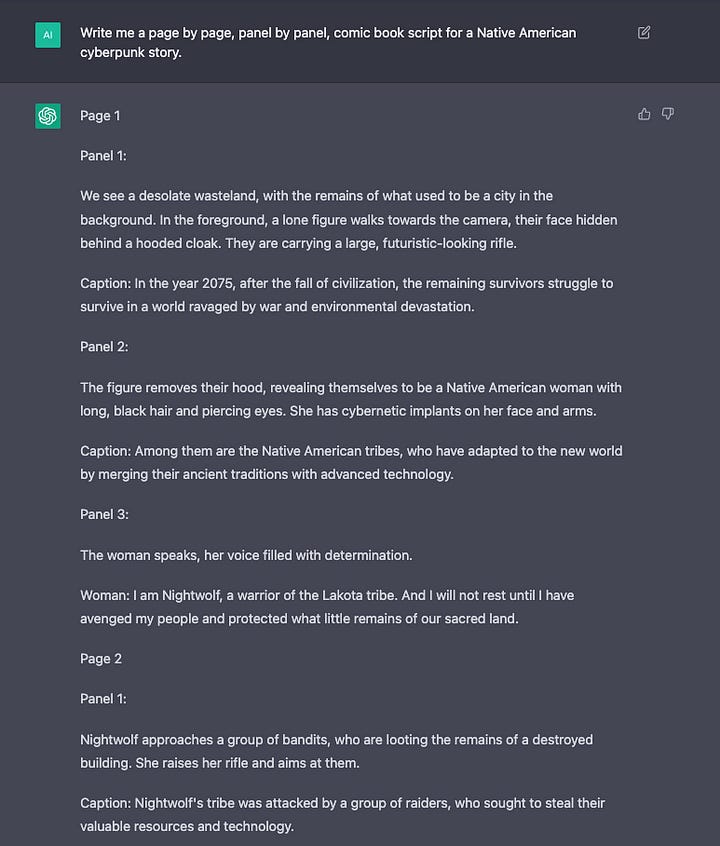 Here is the full script:
Write me a page by page, panel by panel, comic book script for a Native American cyberpunk story.

Page 1

Panel 1:

We see a desolate wasteland, with the remains of what used to be a city in the background. In the foreground, a lone figure walks towards the camera, their face hidden behind a hooded cloak. They are carrying a large, futuristic-looking rifle.

Caption: In the year 2075, after the fall of civilization, the remaining survivors struggle to survive in a world ravaged by war and environmental devastation.

Panel 2:

The figure removes their hood, revealing themselves to be a Native American woman with long, black hair and piercing eyes. She has cybernetic implants on her face and arms.

Caption: Among them are the Native American tribes, who have adapted to the new world by merging their ancient traditions with advanced technology.

Panel 3:

The woman speaks, her voice filled with determination.

Woman: I am Nightwolf, a warrior of the Lakota tribe. And I will not rest until I have avenged my people and protected what little remains of our sacred land.

Page 2

Panel 1:

Nightwolf approaches a group of bandits, who are looting the remains of a destroyed building. She raises her rifle and aims at them.

Caption: Nightwolf's tribe was attacked by a group of raiders, who sought to steal their valuable resources and technology.

Panel 2:

Nightwolf fires her rifle, taking out several of the bandits with precise shots. The remaining bandits turn to face her, but she is ready for them.

Caption: Nightwolf is a skilled hunter and warrior, trained in the use of both traditional and advanced weapons.

Panel 3:

Nightwolf charges at the bandits, using her cybernetic enhancements to move with superhuman speed and agility. She easily dispatches the remaining bandits, leaving none alive.

Caption: With her enhanced abilities, Nightwolf is able to take on entire groups of enemies and emerge victorious.

Page 3

Panel 1:

Nightwolf stands victorious over the defeated bandits, her rifle still at the ready.

Caption: Despite the dangers she faces, Nightwolf is determined to protect her tribe and their land at all costs.

Panel 2:

Nightwolf is approached by a group of her fellow tribe members, who thank her for her actions and offer her their support.

Caption: The tribe recognizes Nightwolf as a hero, and they are grateful for her willingness to defend them.

Panel 3:

Nightwolf stands alone, looking out at the desolate wasteland with a determined expression.

Caption: Despite the challenges she faces, Nightwolf knows that she must continue to fight for the survival of her people and their traditions in this harsh, cyberpunk world.
I thought it was pretty good and shared it with my followers.
Over the next 1-2 hours I used MidjourneyAI and ComicLife3 to turn that script into a comic. This was the result:
As I said on Twitter - I feel like this comic is a bit mid and have my own criticisms of the result, but am blown away that it was entirely AI-written and I was able to make it in under 2 hours, from zero concept to finished product.
What do you think? Like the comic? Should I create more?
---
Follow-Up:
I shared the above comic on social media. Many said that the AI-generated dialogue was a bit wooden and on-the-nose - so I tried re-doing the opening with new writing. Same story, premise, character, etc. Just a more "human" writing.
I'd just listened to Tim Ferriss's interview with comic creator Todd McFarlane, so I think I aped the style of "edgy" 90s comics. What do you think?
Might try more AI-written comic experiments in the future to work.